Your personal devices – including your phone, tablet, and computer – and the apps and websites you use collect information about you. Companies often store this information so that their services function properly, but they may also sell your data to advertisers or share it with law enforcement during an investigation.
For example, Google Maps collects and stores your GPS data to know where you are and remember where you've been. Health, fitness, and period tracking apps also store your personal data, much of which could be considered sensitive. Advertisers can buy access to this information and store it themselves, building an entirely separate data set tracking your movements and personal habits.
Law enforcement can (and often does) request access to companies' stored information or a suspect's personal devices to find evidence for criminal investigations. Companies can't protect you here; if they don't comply with valid requests they may face prosecution themselves.
This means that, if you're suspected of planning or having an abortion, you could be incriminated by data saved in your phone or stored by companies like Meta, Apple, or Google. Your GPS data, for example, could show that you've visited an abortion clinic, and health or fitness trackers could show important changes in your routines, schedules, and menstrual cycle.
A 2020 study highlighted the risks. The study's authors showed how police and prosecutors were already using text messages, emails, search histories, and other digital data to bring criminal cases against women suspected of self-induced abortions.
With these risks in mind, limiting the data you share with companies, devices, websites, apps, and other actors is crucial.
11 Steps You Can Take to Keep Your Abortion Private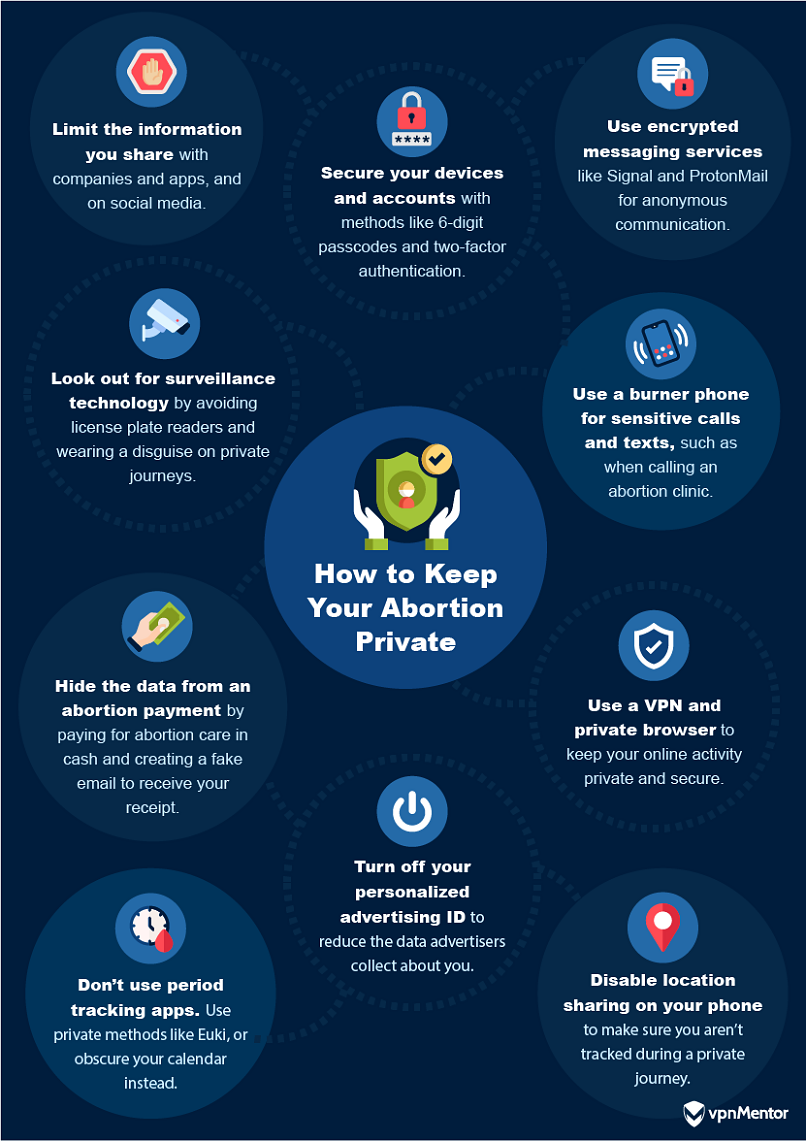 By implementing these 11 steps, you can help avoid sharing data about your abortion care or plans, and ultimately prevent police from finding out about your abortion.
1. Limit the Information You Share
If you limit the abortion-related data you share, you can weaken any investigations into your healthcare.
You can edit your apps' permissions on your phone to restrict their access to potentially incriminating data, like your medical data or location history. On iOS, you can edit app permissions in Settings > Privacy & Security. On Android, navigate to Settings > Permission Manager to restrict apps' access to your data (we cover location settings in more detail in Step 7). Alternatively, you could steer clear of apps that request access to abortion-related data.
You may also want to avoid apps and services that collect information seemingly unrelated to their function (e.g., a flashlight app that accesses contact information). They could be excessively harvesting user data that might later be accessed in an investigation. Read companies' privacy agreements or contact them to find out how they use your data if you're unsure.
You ought to be very selective about the information you post online. You shouldn't post about being pregnant or receiving abortion care, and you shouldn't display your content to strangers, either. Posting anything while you're waiting in or even near an abortion clinic is also off limits – metadata from your posts could reveal where you are.
2. Secure Your Devices and Accounts
Adopting strong authentication measures for your devices and online accounts can prevent someone – such as an anti-abortion protester, family member, or suspicious colleague – from looking through your device to expose data about your abortion.
Add a passcode, password, or lock to your devices if you haven't already. Adopt the strongest security measures for extra protection, such as 6-digit passcodes.
Try not to use biometric authentication, such as face ID or fingerprint ID. With biometric authentication turned off, a person who's trying to expose your abortion will find it harder to force you to open your device.
In addition to securing your device, you can turn on two-factor authentication to secure your email app, telehealth platform, messaging apps, and any other online accounts where possible. Rather than asking users for a single password, two-factor authentication strengthens account security by asking for two separate forms of identification to access accounts.
3. Use Encrypted Messaging Services
While unencrypted communication apps like Facebook Messenger might collect your messages, end-to-end encrypted messaging services can't. End-to-end encryption keeps your messages secure by making them unreadable to anyone other than you and the person you message, in turn hiding them from interested parties (like law enforcement).
While end-to-end encryption prevents third parties from reading your messages, iPhone users should remember that their device's iCloud Backup may negate this security feature on WhatsApp and iMessage, two popular encrypted messaging platforms. That's because iCloud Backup may still access messages from these apps and store them in a readable format, which law enforcement could retrieve. WhatsApp is also unfavorable because it collects a significant amount of user data.
Signal is a better option that doesn't collect users' messages or contact data and has additional privacy features, including the ability to mask your phone number and IP address. If you're using Signal, make sure to enable the app's disappearing messages feature.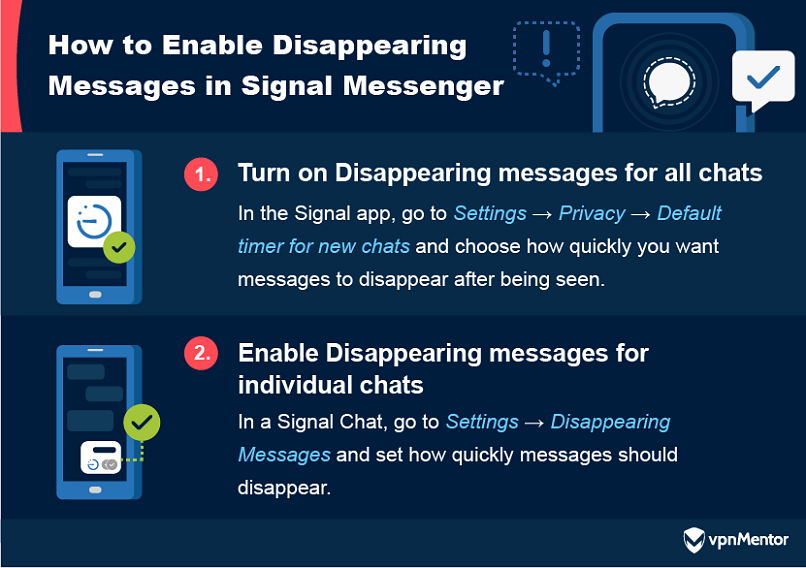 If you need to discuss your situation via email, ProtonMail's encrypted mail service is a better option than popular platforms like Gmail, Outlook, or Apple Mail.
Encryption on these platforms may only work when your emails are in transit, or when they're delivered to another mail application that supports the same cryptographic protocol (the set of rules used for secure communication). That means vendors and third parties could still read your emails and, at the very least, security features can be awkward to use.
Unlike many popular email service providers, ProtonMail's password-protected feature lets you send end-to-end encrypted emails to any account. The platform also allows you to send anonymous and self-destructing emails, and doesn't store your email content.
4. Use a Burner Phone for Sensitive Calls and Texts
A burner phone is a cheap, prepaid phone that you can buy anonymously and destroy after use. Your identity isn't tied to a burner phone or any of the calls and texts a mobile provider collects from it. That means using a burner phone can help you avoid being detected by law enforcement when talking about your situation over the phone.
You can follow these best practices for purchasing and using a burner phone to maintain your anonymity:
Purchase a dumbphone and prepaid SIM from a convenience store using cash.
Don't reveal any information that could identify you in messages and texts.
Don't use your burner phone from your home or place of work; instead, make calls from random locations.
Don't have your smartphone with you when using a burner phone.
Dispose of the battery, SIM, and phone separately when finished.
Burner apps, fake number apps, and anonymous texting services can add a layer of privacy to your communications. But remember that these services may still collect potentially incriminating messages that can be handed over to police.
5. Use a VPN
A VPN is a security tool that redirects your internet signal through a third-party host, which alters your IP address and helps mask your location. VPNs also encrypt the data you send and receive to keep it private and unreadable to others, such as ISPs, browsers, hackers, and law enforcement. This will help protect you when searching for information about abortion care online.
You can use a VPN with a no-logs policy and a kill switch to make sure your online activity is protected while you plan your abortion care. A no-logs policy means the VPN doesn't collect data transmitted through its network, and a kill switch blocks your internet access if your connection to your VPN drops. This prevents your data from leaking online.
While a no-logs policy should help keep your data private, some VPNs have been known to save sensitive user data even with these policies in place.
As such, for extra peace of mind, you may also want to choose a VPN that isn't registered in a nation within one of the Five, Nine, or Fourteen Eyes privacy agreements. US law enforcement could potentially request access to data passing through VPN providers based in these nations.
If you're interested in better securing your internet connection with a VPN, we have a list that highlights the features of some of the best.
6. Use Private Internet Browsers
Private internet browsers can keep your abortion-related data safer by hiding your online search history and by blocking cookies (the small files websites use to track you). The best options also increase your anonymity by masking details like your IP address and device.
Brave and DuckDuckGo are two browsers that offer better privacy than the incognito or private modes on services like Google Chrome, Microsoft Edge, and Mozilla Firefox. If you're restricted to these services, DuckDuckGo also offers a browser extension that can boost their privacy credentials.
Neither Brave nor DuckDuckGo collect identifiable data about you, and both services completely mask your identity from websites, browsers, and ISPs. If you choose to use a private internet browser, consider pairing it with a VPN for additional security while browsing.
Tor Browser is another privacy-focused web browser that cloaks your identity and location as you search online. While Brave and DuckDuckGo block online trackers and avoid saving your data to keep you anonymous, Tor completely re-routes your web traffic through several random servers, hiding your IP address and browsing activity in the process.
Tor adds an extra layer of privacy and anonymity to your data. However, Tor is less user-friendly than other browsers and isn't completely secure on its own. As such, pairing it with a VPN is crucial.
If you need to use a standard browser, you can still increase your privacy with browser extensions like:
7. Disable Location Sharing on Your Phone
A device or app with permission to monitor your location could track your visit to an abortion clinic, creating a pool of incriminating location data police or prosecutors could access. You can turn off your phone's location-sharing settings to prevent companies from collecting this data.
On Apple, switch off Location Services and the Share My Location feature to block access to your location.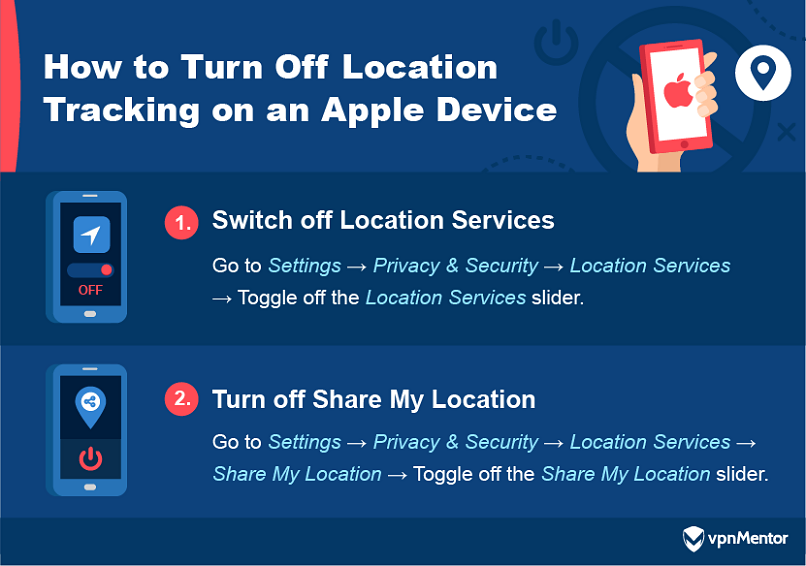 On Android, toggle off your phone's Location slider and disable Location services.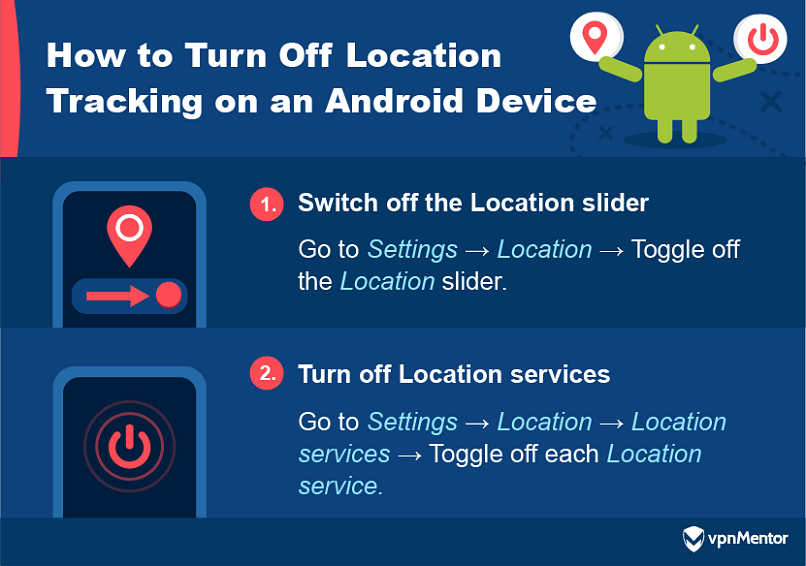 Note: Turning off your phone's location settings will prevent some apps and services from working.
In addition to switching off your phone's location-sharing settings, you may also want to avoid connecting to public WiFi while visiting a sensitive location. Your device could leave behind a data trail that reveals your IP address and online activity. You may also be vulnerable to man-in-the-middle attacks when connected to public WiFi, where someone intercepts data sent to or from your device.
8. Turn Off Your Personalized Advertising ID
Your device has a unique ID that advertisers access to track the apps you use, the websites you visit, and the actions you take on your device (like making purchases).
While advertising IDs are technically anonymous, law enforcement can associate them with other available data (such as geolocation) to identify a suspect. You may want to turn off your advertising ID if you're planning an abortion and are worried about your privacy.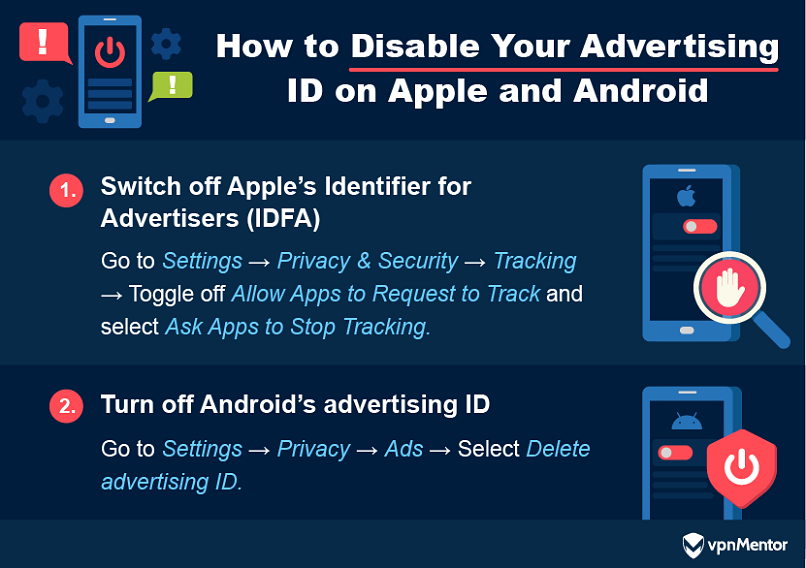 Advertisers may have already stored data associated with your advertising ID. Consider paying for a professional data deletion service, such as Incogni, to find these companies and ask them to delete your data.
9. Don't Use Period Tracking Apps
Period tracking apps like Glow and Ovia are popular in part because of the personalized experience they offer. However, this personalization comes at a cost. Many of these apps share the highly sensitive personal information they collect with third parties – including data about users' cycles, fertility, and activity during their period.
Since the overturning of Roe v. Wade, some fertility tracking apps have released updates to offer a more secure and private experience. Flo's "anonymous mode," for example, removes users' names, email addresses, and other identifiers from their profiles when active.
While privacy experts have welcomed the update, they also warn that it may not be fully anonymous, and advise users to be careful about the information they input into the app.
For people concerned about their privacy who want to track their cycles, Euki is a much safer alternative to many of the more popular apps. Euki doesn't collect or store any of your data (not even anonymized data), which means it has nothing to offer law enforcement. Plus, it features security measures like PIN protection and a false screen setting.
You could also use an encrypted calendar app like ProtonCalendar to track your cycle. If you use a calendar app, instead of writing what you're tracking, consider placing random emojis on the first and last days of your cycles. This will help obscure the meaning of your notes, and keep your cycle private.
10. Hide the Data Trail from an Abortion Payment
Police and prosecutors could access proof-of-purchase data – such as bank statements and digital receipts – when gathering evidence about someone who's paid for abortion care. If you're concerned about your privacy and need to make a payment, there are a couple of simple steps you can take to hide your proof-of-purchase information.
First, pay for abortion care, any medication, and abortion aftercare using cash. Purchases made with your bank card show up on your bank statement, which police could read.
Second, create an anonymous email address using fake personal information and a burner number to receive any digital receipts from sensitive payments. Once you receive your digital receipt, immediately delete the email and your account.
11. Look Out for Physical Surveillance Technology
Your phone and computer aren't the only devices that monitor your movements. Investigators can use facial recognition technology to identify you in security camera footage as you travel to an abortion clinic or visit a pharmacy. There's also growing concern police will access license plate readers, which identify the owners of vehicles, to track the movements of someone traveling for an abortion.
Wearing a simple disguise can help you avoid identification by surveillance cameras. A scarf, mask, hat, and a pair of large dark sunglasses are enough to obscure your appearance. A disguise will also help protect your identity from the public or anti-abortion protestors.
You can't obscure your car's license plate without breaking the law, but you can take steps to avoid license plate readers altogether. Of course, swapping your car for a taxi, bus, or train creates an entirely separate data trail. But you can feasibly plan your route to avoid license plate readers using camera maps, or cycle through areas where you might otherwise get pictured, such as in cities.
Protect Yourself from Outdated Privacy Laws
America's worst data privacy fears could be realized following the overturn of Roe v. Wade.
In recent decades, technologies and devices have encouraged us to share increasing amounts of our personal data, while the laws designed to protect our privacy have struggled to keep up. In fact, the Federal Law that protects your online data was passed in 1986 – which means it's older than Facebook, Google, and even the World Wide Web.
The Dobbs v. Jackson ruling has highlighted the deficiencies in America's outdated privacy regulations. 50 years ago, police would have had to search a person's property or doctor's office to gather evidence about an abortion. Now, investigators can gather detailed data about our private lives and family decisions from our personal devices, and the third-party technology companies we trust to manage our personal information.
Legislators need to draft federal laws that give greater protections to our information online. Big technology companies must take steps to protect users' sensitive data – perhaps by not collecting it at all. Until we see widespread changes, however, people will need to protect their own data, especially when it comes to something as sensitive as abortion care.